Anti-Choice Organizations in Niagara
Please note that this page makes reference to organizations whose activities and websites may be triggering for some, and we encourage folks to use caution if doing further research on your own.
Know of an anti-choice group or organization that's not listed here?
Email us at niagarareproductivejustice@gmail.com.
See anti-choice ads or protestors? We want to hear about it.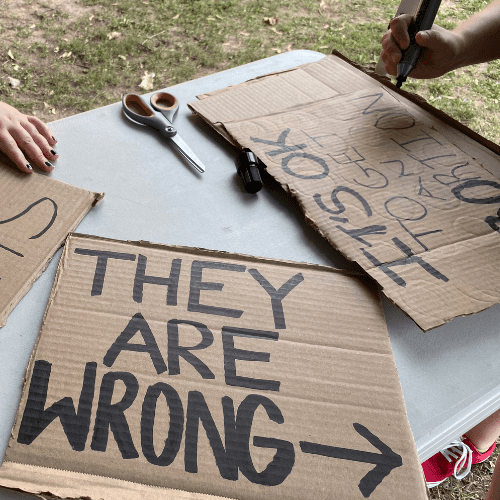 Crisis Pregnancy Centres are anti-abortion fake clinics that target people seeking abortion and attempt to trick them into coming to their centre instead of an actual medical centre. They provide falsified information about the risks associated with abortion.
For more information on CPCs in Niagara and their harmful tactics, see our zines, "The Truth About Crisis Pregnancy Centres in Niagara" and "Spotlight: Fake Clinic Clarity Pregnancy Options", available on our Materials page.
Local Anti-Choice Advocacy Organizations
National Anti-Choice Organizations with a Presence in Niagara
Anti-Choice Organizations in Neighbouring Areas
Located at 40 Wellington St. N. #102, this is a faith-based crisis pregnancy centre that attempts to appear as a medical clinic. They also offer STI testing, and have been known to shame people for engaging in sex outside of marriage and for being queer and polyamorous. 
Located at 70 Argyle St N. in Caledonia and 121 Alder Street W. in Dunnville, this is an anti-abortion Crisis Pregnancy Centre that uses fear and guilt rooted in intentional misinformation about abortion to try to convince clients that they do not know what is best for their bodies.