Please consider sharing your experience with doctors, clinics, pharmacies, and other services in the region and nearby regions so we can better direct people to affirming, accessible healthcare and steer them away from questionable and harmful doctors and services.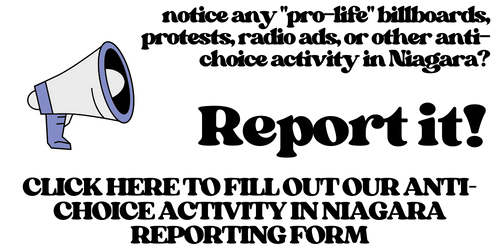 NRJ has compiled a list of free and low-cost reproductive and sexual health resources in the Niagara Region. This list also includes some resources in the GTA/Hamilton Area as folks are often referred to these areas to access abortion. 
If you know of a resource that needs to be added, or see one that needs to be taken off the list or edited, please let us know by emailing us at niagarareproductivejustice@gmail.com.
What are you looking for?
Abortion Access and Support
Indigenous-Specific Resources
Pregnancy and Parenting Support
Religious and Spiritual Resources
Sexual Assault and Domestic Violence Support
Shelters and Housing Resources
Spanish Speaking Resources
If you know of any other resources/services, see any outdated information, or have had a negative experience with a particular organization or service that we should take off the list, please let us know! Email us at niagarareproductivejustice@gmail.com.